July 17th: Ryan "Rat" Travis Features
Stone Soup Poetry meets from 8-10 p.m. every Monday at the Out of The Blue Art Gallery (located on 106 Prospect Street in Cambridge) with an open mike sign-up at 7:30 p.m. On the 17th, Ryan "Rat" Travis returns to Stone Soup with a "Haloween in July" show, where he will release the sequel to his
Haiku of Horror
chapbook.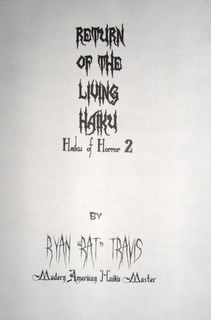 Ryan Travis has been performing for about 9 years as a poet, actor, singer, performance artist and clown. He's toured with 2 infamous poetry groups, The Collective and The Barnum and Buddah Circus, all over New England as well as, NYC, NJ, PA and KY. Known for his upfront and revealing style, his work ranges from children's poetry to the outright offensive, so much so that he was once asked to leave the stage by a long distance phone call by the venue owner.
Nominated for an Irene Ryan Award for Acting Excellence and a Cambridge Poetry Award for best love poem, he's also been published in many online and print magazines, most recently in England.
Not a love poem

This is not a love poem
by any stretch of the imagination

Even though I feel like my chest is going to explode
and an incredible sense of joy radiates from within me

This is not a love poem

Even though I think that you're the most beautiful
and phenomenal woman I've ever met
and I can't get you out of my head

This is not a love poem

and when I think about the way you look at me sometimes
and how I feel when I stare into your captivating eyes,
I feel higher than I've ever been
and my muse forces me to put pen to paper to express these feelings
compelling me to write

So just don't think of this as a love poem
cause if it was, I might just scare you away
cause love is a terrifying word
and I haven't even begun to truly know you yet
but I feel so very lucky to know who you are right now.

So lets just say this is a poem
to let you know how incredible you are
and leave it at that

cause this is not a love poem
even though it sure seems like it.